Explore the pluses
of Wavin
commercial drainage solutions
When you partner with Wavin for commercial plumbing and above ground drainage solutions, you know you can specify and install with confidence.
You have the plus of working with Europe's No. 1 provider to the commercial construction sector, so everything is project proven. The plus of world-class products certified to work together and that enhance performance and speed installation. And the plus of end-to-end support from our dedicated technical team, industry leading BIM packages and a real commitment to sustainability.
Experience the plus of connecting with Wavin.
Wavin AS+
Wavin AS+ is a mineral reinforced polypropylene (PP) low-noise soil and waste pipe solution. Optimal sound reduction is guaranteed due to the high density of material. Optimised three-layer pipe structure for low noise levels and push-fit connections with a pre-lubricated elastomer seal (EPDM) for quick, easy and reliable installation.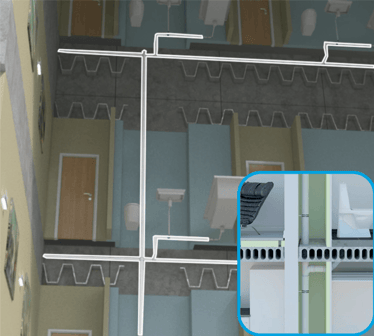 AS plus pipe inside of a hotel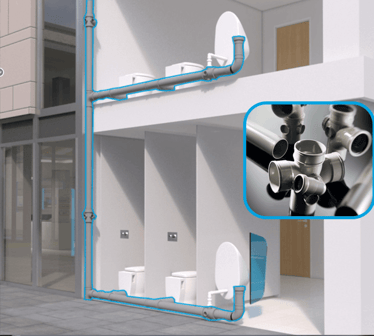 Wavin Solvent soil and waste 
pipe in commercial office
Wavin Solvent Soil and Waste
The PVC-U soil solution with lighter waste connections than any other soil system, engineered from Recycore with over 50% recycled material.
Wavin HDPE
A lightweight soil and waste system with exceptional temperature, vibration, impact and chemical resistance. Hermetic joints can be formed by both electro-fusion and butt welding.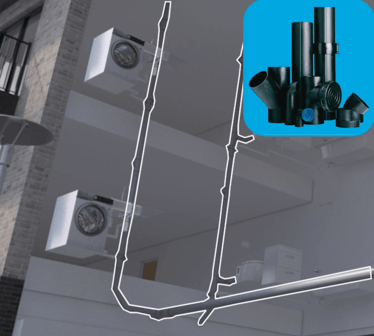 Wavin HDPE pipe used in High-Rise 
Residential building
Wavin Tigris
Tigris K1 is a multilayer pipe system designed for potable water and heating applications. It is ideally suited for installation on commercial projects such as educational establishments, apartment blocks and hotels.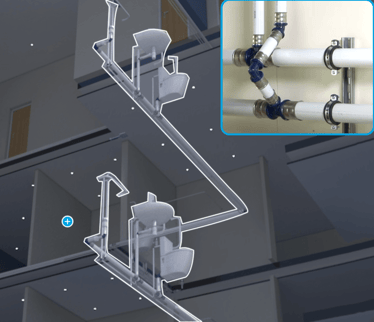 Wavin Tigris pipe used in Hospital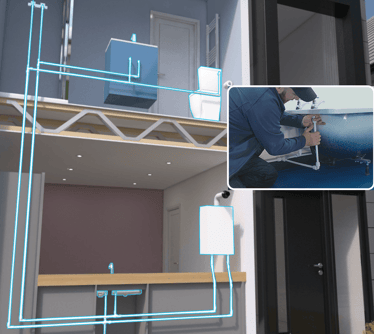 Wavin Hep2O used in Residential House
Wavin Hep2O
The push-fit plumbing system of choice for plumbing professionals - four times faster to install a joint than a copper system with an installed cost saving of 30%.
Wavin Osma Rainwater Guttering
The Wavin Osma range offers a choice of six rainwater gutter profiles to meet the varying aesthetic, performance and installation requirements for all types of buildings, from single dwellings to large residential, commercial or industrial premises.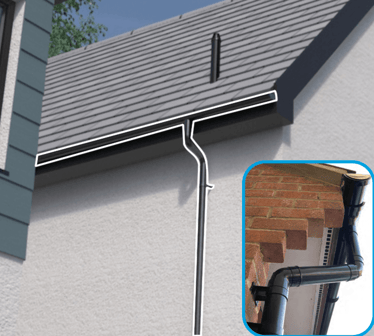 Wavin Rainwater guttering used 
on roof of residential house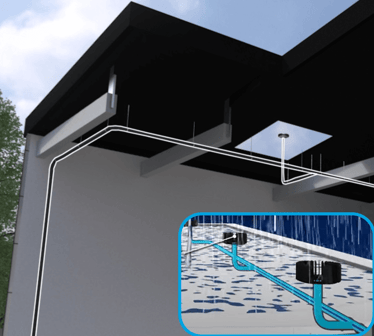 Quickstream used on roof of Supermarket
Wavin QuickStream
The siphonic roof drainage solution is enhanced by unique design software which optimises the performance of every installation to the specific requirements of each building.
Our story. Your commercial gain.
For the quickest way to gain a better picture of how Wavin really adds up for your next
commercial project, flip through the pages of our e-Brochure over your next cuppa.